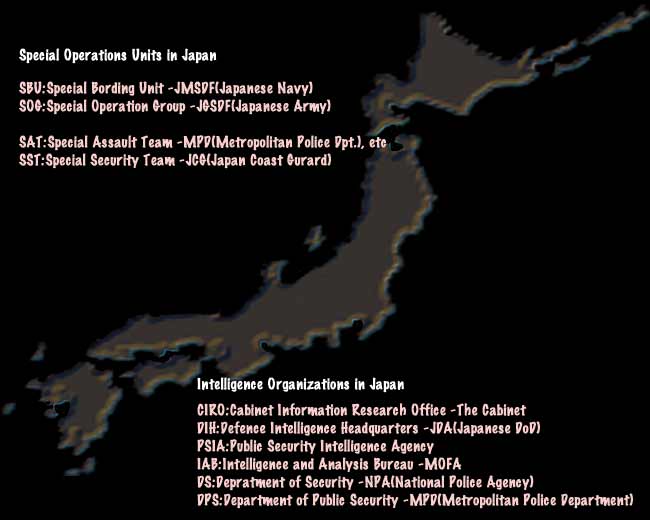 Japanese Special Operations Units




SBU:Special Boarding Unit
It was established in JMSDF after the Spy Ship Case off the coast of Noto in 1999. They have a time to train with Brithsh SBS.
3 Troops, about 60 members.
Headquarters/Edahima, Hiroshima Prefecture
---
SOG:Special Operation Group(tentative name)
It was inaugurated into JGSDF on 29th March of 2004.
about 300 members.
counter Terrorims operationn.
---
SAT:Special Assault Team
It is a SWAT like high-trained elite team. They have a time to train with German GSG-9. MPD and 6 other Prefectural Police(Osaka, Hokkaido, Chiba, Kanagawa, Aichi and Fukuoka) have SAT.
In September of 1977, Japan Red Army hijacked, and NPA(National Police Agency) took no effective measures. So, the Cabinet ordered establishment of anti-hijack team.
SAT in MPD
Artillery Troop, 6th Riot Police, Department of Security, Tokyo Metropolitan Police Department
It is brigaded 4 Platoons, 20 members each.
[equimpent]
-SMG:H&K MP5 series
-Hund Gun:SIG P226, P228...
-Sniper Rifle:H&K PSG-1...
-NVG
-Flash Bang
...etc.
---
SST:Special Security Team
The start of SST was for the security of the Kansai International Airport by JCG(Japan Coast Gurad). They have a time to train with American SEALs and operate against seajack, pirates of Sumatra, spy ship from North Korea and so on.
It is brigaded 3 Troops, 10 member each in 5th Regional Coast Guard Headquarters .
---
Japanese Intelligence Organizaitons




CIRO:Cabinet Information Research Office
Organization

DCI(Director of Cabinet Intelligence):Toshinori Kanemoto (since April 2001) -- [previous Directors are from NPA(National Police Agency)]


Vice Director


General Administration Department


Domestic 1st Department - domestic intelligence


Election Team

Policy and Legal Affiairs Team

Political Party Team

Labor Team


Domestic 2nd Department - collecting and measures against mass media, public opinion


International Affairs Department - in charge of collecting foreign information --[previous Manager are from NPA]


Trading Firms Team - information exchange with Japanese trading firms

Liaison Team -liaison with foreign intelligence organizations

Korean Peninsula Team, China Team, South East Asia Team, Russia Team, America Team, Africa-Middle East Asia Team, Europe Team

Military Team
Mission Team

Economy Department

Source Material Department

*commissioned organizations to collect information
foundation - World Politics and Economics Research Council
incorporated association -Southeeast Asian Affairs Research Council, International Affirs Study Group, Citizen Publish Association, Democracy Study Council
Cabinet Information Collection Center(old Internaional Affairs 2nd Department)

established April 1996

General Affairs Team -collection and settlement information from open source both home and abroad
System Development Team -control of information network and communication device in large-scale disasters
News Team
Cabinet Satellite Intelligence Center

Tomato reception station
lot area/8.7ha
administration building/4-floor
gross floor area/2,400m2



---
PSIA:Public Security Intelligence Agency


???<=??第一部:
???<=??第二部:前E外情報??集
 第二管理部門:朝鮮半島担当. 北朝鮮国??班, 朝鮮総聯班, 商工連班.
 第三管理部門:中国・東南アジア担当. 中国国??班, 駐??中国大使該ャ班, 留学??班, 民主運動??班....
 第四管理部門:露国・欧州担当. 
---
IAB:Intelligence and Analysis Bureau


Headquarters : 東京都??ヶ関2-2-1 TEL:03-3580-331(??表)
1993.8月?!=足
??Computer System Center:情報センター??
??Intelligence Coordination Division:国??情報??
??First Analisys Division:?(TM)析第一??
??Second Analysis Division:?(TM)析第二??
??Research Division:?<=????
---
警察庁警??局
局?
??警??企画??:局??の統括
??型安一??:共産党, 新??翼, 旧オウム真理?>=等担当
 ?...??前E策??:旧型安三??(1972〜2001). 革マル派, 中核派, 革労協前E策等担当
??型安二??:右翼, 皇??警??, 要人警護等担当
??外事??:前Eスパイ・テロ前E策等担当
 国??テロ前E策??:??本?'軍前E策等担当
 通信所:通称「ヤマ」??し??知られるCOMINT(=通信情報)機関.
 >東京都??野市三沢3-20-11, 他各地?...?>=線通信所?(TM)???>し, 国??・鞠l海の?>=線??傍受・??読.
??警????:
---
警視庁型安部
??型安総務??:
??型安一??:新??翼前E策担当
??型安二??:革マル派, 労?!=組合, 組織??糠l前E策担当
??型安三??:右翼前E策担当
??型安四??:資料管理担当
??外事一??:アジア以外の外国人の?>=報活動前E策担当
??外事二??:アジア圏外国人の?>=報活動前E策担当
??外事三??:国??テロリズム前E策担当
??型安機動捜????:
---
DIH:Defense Intelligence Headquaters


organized on 20th January of 1997.
about 1,700 members
Headquaters-Ichigaya, Shinjuku-ku, Tokyo

Director - Admiral

Vice Director - Deputy Director-General

General Administration Department
Plan Department
Imaginary Department
??電波部(旧陸??自衛???<=??部第二??別??/通称:?<=別)
 一??=露国, 二??=中国, 三??=朝鮮半島, ?(TM)??=??号??読, ????=?????(TM)析
??戯ャ急・動?'部
??通信所